Rubber Roller Manufacturer, Supplier in Ahmedabad, Gujarat, India
Empowered with the experienced professionals, we bring forth for our valuable clients an optimum quality variety of Rubber Roller. Our products are utilized in different industries across the nations, and are designed to develop and separate various pellets by rejecting under the size and oversize pellets. These Rubber Rollers are highly appreciated in the market for quality attributes such as sturdy construction and wear tear resistance. Innovus Rollers  is a well-established Rubber roller manufacturer producing a wide-ranging of conveyor rollers for an extensive variety of industries. We are manufacturing thousands of Rubber roller, our customers can avail the rollers as per individual requirements. Our offered rollers are used in huge assortment systems from stainless steel, zinc-plated mild steel and PVC in tube diameters ranging from 20mm to 102mm.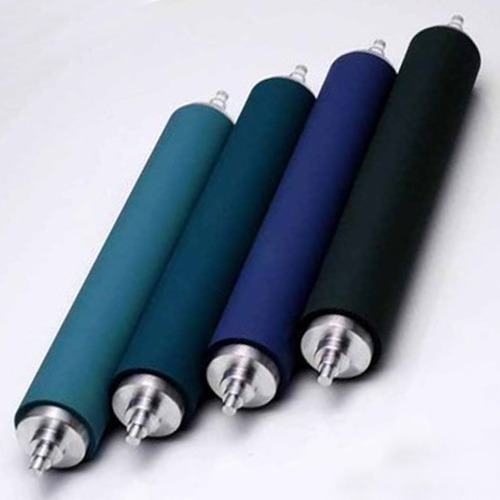 Our wide array of Rubber Rollers such as Wrinkle Remover Bow, Tungsten Carbide Coated Rollers, Raffia Machine Rollers and Jointed Axle Rubber Bow Roller are offered by us at market leading price rates. To know the detailed price list, kindly fill in the inquiry form.

We are the leading Rubber roller manufacturer in India and our products are made as per the designs of our experts with high grade material as well as the advanced technology in compliance to the international norms.
Rubber Roller Manufacturer

We are the leading rubber roller supplier of wide array that are immensely demanded by the textile, paper, lamination, printing industries in the cities such as Mumbai, Hyderabad, Chennai, Noida and Kanpur etc.

Rubber roller in India are widely used for several Industrial applications and since at Innovus Rollers Ltd, we manufacture them with the best grade materials in compliance to the international standards using a very advanced methodology, our products are highly valued in the domestic market.

We are the producers of high performance rubber rollers in Ahmedabad and our factory is located at the prime industrial estate in Ahmedabad with an excellent access to all the facilities to manufacture, supply as well as export our high quality products.
Rubber Rollers in Ahmedabad
Rubber Roller Specifications
Usage/Application
Printing Machine
Roller Surface
Rubber
Roller Diameter
50 mm
Roller Length
800 mm
Shape
Cylindrical
Hardness
65 HRC
Packaging Type
Wooden Box
Shaft Material
Stainless Steel
Country of Origin
Made in India